7 avril 2009
2
07
/

04
/

avril
/

2009
14:18
Are the titles bad guides ?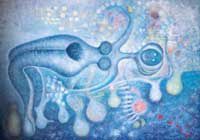 Mindszenti feels very often reluctant to give titles to his paintings. He gives it however, for the needs of the exhibitions. They are thus given once the finished work, sometimes for a long time, and ready to be exposed.
Give a title to a painting can change the glance of the spectator, which is then confronted with a sort of rebus, to look for the relationship between the title and the painting. He can hamper the confrontation of the glance in front of the painting. He can hamper the true dialogue between the work and the spectator, the dialogue that must respect the sensibility of each. A picture lives only by the contribution of the one who looks at it.As soon as a title begins to make walk the intellect, it can create a misunderstanding.
From the moment there is no true representation, we leave towards something dreamlike, we can escape from the reality and to be in an autonomous vibration. It seems to me that the titles disturb it.


what do you think of it
?
VV